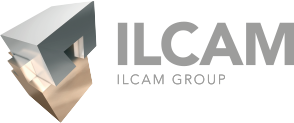 OVER 60 YEARS' EXPERIENCE IN PRODUCING DOORS HANDLING PROCESSES SUCH AS WORKING WITH WOOD, COATING, EDGING AND MEMBRANE PRESSING
With a combination of a solid background in craftsmanship, the use of automated systems, and skill in producing finishes, ILCAM is in a position to respond to the demands of an ever transforming market with high-quality solutions.
The custom colour options offered by ILCAM are practically endless, with the range spanning the full colour spectrum. High-quality coating procedures ensure that the original colour is amazingly long lasting.
With its investments in high tech, ILCAM can provide all the most advanced solutions in terms of edging.
Through its membrane pressing — the ultimate 3D surfacing technology — ILCAM offers an effective response to the issue of the daily wear and tear furniture is subject to: impressive durability, long-lasting colour, hygienic qualities and environmental sustainability.